Area
: 954 sq km.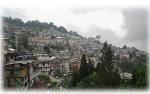 Climate
: Tropical, temperate and alpine climate
Summer
: 16.6 deg C
Winter
: 10 deg C
Languages
: English, Nepali, Hindi, Tibetan
Best time to Visit
: February-May & September-November
STD Code
: (91)- 3592
History of Gangtok
Gangtok, the capital city of Sikkim, situated 110 kms from Siliguri and at an altitude of 1547 metres above the sea level, is filled with different cultures, religions and people existing in perfect harmony. Gangtok presents a perfect example of harmony between traditions and modernity. There are discotheques, posh markets, fast food outlets and many other modern amenities, at the same time Gangtok also owns some of the important Buddhist religious sites. Beautiful hills, lovely valleys, intriguing temples and monasteries spreading spiritualism and the natural beauty invite one and all.
The earliest records date from the construction of the hermitic Gangtok monastery in 1716. Gangtok remained a small hamlet until the construction of the Enchey Monastery in 1840 made it a pilgrimage center. After the defeat of the Tibetans by the British, Gangtok became a major stopover in the trade between Tibet and British India at the end of the 19th century. In 1894, Thutob Namgyal, the Sikkimese monarch under British rule, shifted the capital from Tumlong to Gangtok, increasing its importance. A new grand palace along with other state buildings was built in the new capital. Following India's independence in 1947, Sikkim became a nation-state with Gangtok as its capital.
Culture
Major Indian festivals, such as Diwali and Makar Sankranti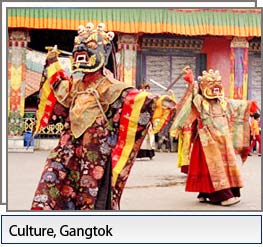 (the popular Hindu festivals) along with the Buddhist festivals like Losar, Loosong, Bhumchu, Saga Dawa, Lhabab Duechen and Drupka Teshi are celebrated in Gangtok. During the Losar, the Tibetan New Year in mid-December, most government offices and tourist centres are closed for a week. In recent times, Christmas has also been celebrated in Gangtok.
Residents of Sikkim are music lovers and it is common to hear Western rock music being played in homes and restaurants. Hindi pop songs are also common. Indigenous Nepali rock, music suffused with a western rock beat and Nepali lyrics, is also particularly popular.
Football (soccer) and cricket are the two most popular sports. The Paljor Stadium, which hosts football matches, is the sole sporting ground in the city.
Noodle-based foods such as the thukpa, chowmein, thanthuk, fakthu, gyathuk and wonton, are relished in Gangtok. The momo is a popular snack made from vegetable, beef, or pork filling, which is steamed and served with a soup. Alcohol is cheap due to low excise duty in Sikkim. Beer, whiskey, rum and brandy are frequently consumed by both locals and non-locals. The city's main landmark is a 200 foot (90 m) TV tower that can be viewed from afar.
Sightseeing In Gangtok
Deer Park
Deer park also known as the Rustamji Park, adjacent to the new secretariat, it is named after one of the Dewans of the Chogyal of Sikkim. The park is home to some animals like the Red Panda and the Himalayan Bear. There's also a big statue of Lord Buddha in the park premises, in front of which a butter lamp burns perpetually, surrounded by exotic flowers. The park provides some mesmerizing view of the hills of Gangtok.
Dul-Dul Chorten
Dud-Dul Chorten has a set holy books, mantras and other religious

objects. The Stupa was Built by Trulshi Rimpoche head of the Nyingma order of Tibetan Buddhism in 1945. There are around 10 prayer wheels called Mani-Lhaskar around this Chorten.
Rumtek Monastery
Rumtek Monastery is the largest monastery in eastern Himalayas, built by Gyalwa Karmapa strictly according to the designs of the Tibetan monastery, just 24 kms away from Gangtok.
Research Institute Of Tibetology
The Namgayal Institute of Tibetology is a center of research into

Mahayana Buddhism and the language and tradition of Tibet. The institute has some rare collection of Tibetan, Sanskrit and Lepcha manuscripts, statues, Thankas ( tapestry used in Buddhist liturgy) as well as more than 200 Buddhist icons.
Tasuklakhang-The Royal Chapel
This Chapel is situated in the Palace grounds and is the used as a place of worship and assembly and is also a repository of vast collection of Buddhist scriptures.
Enchey Monastery
Just 3 km from Gangtok, this 200 years old monastery looks as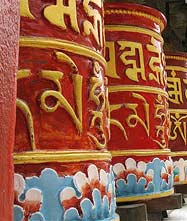 exotic as the legend associated with its founder. The monastery was built by Lama Druptop Karpo, a proficient tantric master who was known for his tantric powers including that of flying. The walls of the monastery are decorated with murals of gods and Buddhist leaders. January is the time of Chaam, a masked dance festival celebrated over a period of two days.
Nam Nam View Point
A gentle walk from the Sikkim press will take you up to the Nam Nam View point which affords a beautiful view of the surroundings and the Tsomgo forest. The place is ideal as a picnic spot.
Tsomgo Lake
The serene lake is situated at a distance of 40 km from Gangtok at

an altitude of 3780 mts above sea level. The surroundings of the lake are filled with a variety of flowering plant and tree species while a few animals are also found. The lake freezes during the winters, presenting a beautiful sight.
How to Reach Gangtok
By Air : The nearest airport is situated at Bagdogra, just 124 km from Gangtok. Regular buses are easily available from Bagdogra to reach Gangtok. Indian Airlines operates regular flights from Delhi to Bagdogra (except Wednesday and Sunday) which leave Delhi at 10:00 AM and arrive Bagdogra after a journey of around 2 hours.
By Rail : Siliguri (1143 km) and New Jalpaiguri (125 km) are the nearest railheads which connect the area with other major Indian cities. Buses and hired taxis are again the available means for getting to Gangtok from there. A major daily train between Delhi and Siliguri is the Mahananda Exp. (Dep. 6:40, Arr. 14:00) while those between Delhi and New Jalpaiguri include the North East Exp., Brahmaputra Mail, Mahananda Exp and Avadh Assam Exp.
By Road : Gangtok is well connected to other cities in the region including Darjeeling, Kalimpong, Siliguri and other cities in Sikkim. State transport buses provide regular services to and from Gangtok.