Area :12,846 km
Climate : Tropical Summer temperature : Min23.2°C, Max39.6°C
Winter temperature : Min13.5°C, Max30°C
Annual rainfall : 82.5 cm
Languages : Telugu and Urdu
Best Time to Visit: November to February.
History of Waragal
Warangal is located on northern Andhra Pradesh State lies along the Chennai-Kazipet-Delhi rail route. Warangal was the ancient capital of the Kakatiyas, an Andhra dynasty that flourished in the 12th century AD. The city stands out for its beautiful lakes, temples and wildlife. It is very rich in antiques and relics.
Warangal's fort, lying southeast of the present-day city, was once surrounded by two walls, traces of the outer wall remain, as do the four stone gateways ('sanchar') of the inner wall. A thousand-pillared temple, built in 1162, is located within the city itself. Warangal is now a commercial and industrial center.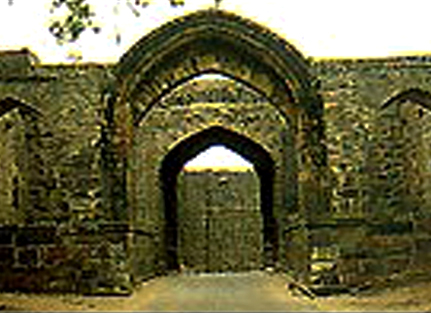 Prola Raja of the Kakatiya dynasty founded the place in the 12th century AD, but some identify it with Worakalli, the capital of the Adeva Rajas of Tuluva Andhra or Telengana in the 8th century AD. Warangal or Varankal is believed to be the Korun Kula of Ptolemy, while another name is Akshalinagar, evidently Yeksilanagar mentioned by Raghunath Bhaskar in his Aravachan Kosh.
The ancient name of Warangal was known to be Orugallu or Omtikonda on account of huge boulder like hillock situated near the swayambhu Siva Temple and is also called "EKASILANAGARAM". In course of time, it was called as "Orugallu", and finally known as Warangal.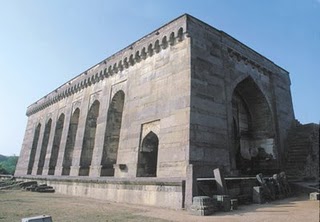 Sightseeing In Warangal
Warangal Fort
Warangal fort is 12-km from Hanamakonda, which dates back to the 13th century. The Kakatiya king, Ganapati Deva and his daughter Rudramma built the fort. Though the main fort has been ravaged over time, the remains of the four huge stone gateways, similar to those of Sanchi, along with several exquisite pieces of sculpture can still be seen in and around the fort.
Bhadra Kali Temple
Situated on a hilltop between Hanamkonda and Warangal, it is noted for its stone image of the Goddess Kali. She is depicted with eight arms and carries a weapon in each hand.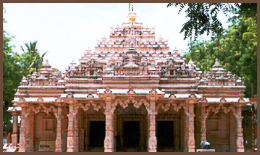 Thousand Pillar Temple
This temple is a fine specimen of Kakatiya architecture and sculpture. It was built by Rudra Deva in 1163 AD in the style of Chalukyan temples, star shaped and triple shrined. The 3 shrines are dedicated to Lord Shiva, Vishnu and Surya. The temple is famous for its richly carved pillars, screens and detailed sculpture. The black basalt Nandi, a monolith, has a lovely polished finish.
Excursions and Destinations of Warangal
Kolanupaka
Kolanupaka, 80-km from Hyderabad, is situated between Hyderabad and Warangal. This was the second capital town of Kalyani Chalukyas during the 11th century AD. During this period the village was a religious centre of Jains, and ranks among other great Jain centres in the south. It was also a great centre of Shaivism. Literary evidences reveal 'Kolanupaka' as the birthplace of 'Renukacharya' the great 'Vira Saiva' saint, believed to be born from the 'Svayambaghu Linga' at this village and absorbed into it after preaching Vira Saivism.
Sri Veeranarayana Temple
The temple is constructed in the Chalukyan style around 1104 AD. The appearance of the temple indicates that it was originally a Jain temple converted into a Vaishnava shrine.
Jain Mandir
The 2,000-year-old Jain temple of Mahaveer is a famous place of worship for Jains in the country. The temple is embellished with beautiful images of Thirthankaras. The 5ft high image of Mahavira is entirely carved of Jade.
Ramappa Temple
Also know as Ramalingeswara temple, this is situated in Palampet village, which is 70-km form Warangal This is a magnificent monument dating back to 1213 AD depicts the glory and richness of the Kakatiya kingdom.
Pakhal Lake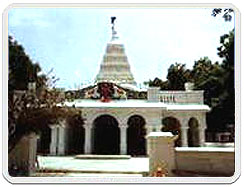 A manmade lake completed in 1213 AD by the Kakatiya king, Ganapathidev, by harnessing a small tributary of the Krishna River. It is located 50-km from Warangal and spreads over an area of 30-sq-km.
Kolanupaka Site Museum
Kolanupaka came into prominence when it was made the alternate capital of the Kalyani Chalukyas in the 11th century AD. The State Department of Archaeology and Museums established a sculptural gallery, which exhibits artifacts from the various historical monuments in Kolanupaka.
Nearby Cities of Warangal Hyderabad : 140 km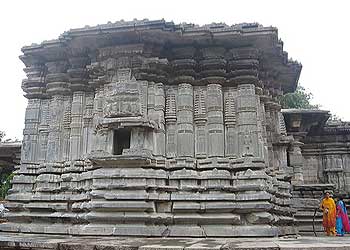 How to Reach Warangal
By Air: The nearest Airport is Hyderabad (140-km) connected by Indian Airlines flights with Bombay, Bangalore, Bhubaneshwar, Calcutta, Delhi, Madras, Nagpur, and Vishakhapatnam. Continental Aviation also operates flights from Hyderabad to Bombay.
By Rail : Warangal is linked to all-important cities in India by rail.
By Road : Regular bus services are available (APSRTC) from Hyderabad, Yadagirigutta, Vijayawada, Armur, Kolanupaka, Jangaon, Kodad, Karimnagar, Nizamabad, Adilabad, Suryapet, Palampet, Jagtial, Khammam, Bhadrachalam, Basara, Bangalore, Mysore and Tirupati.
Local Transport : Coaches are available from the Depot Manager, New Bus Depot, Andhra Pradesh State Road Transport Corporation, Hanamakonda.