Area:29.57 sq.kms
Altitude:800m
Rainfall:108.5cm
Temperature:Max 32Deg, Min 0.0 Deg
Languages:Manipuri,Hindi,English.
Best Time to Visit:October to February
STD Code:0751
An Overview of Imphal
Imphal is the capital of Indian state of Manipur. It is an ideal destination off the beaten track.It is the centre of all cultural, commercial and political activities. It derives its name from yumpham, which means homestead. It is a beautiful city and stands in a beautiful wooded valley full of lakes. It is one of the most ancient towns in the Indian subcontinent and is blessed with a healthy climate with evergreen scenic beauty, extending the tourists a cordial invitation.At some places Imphal looks like a painting-clouds hanging low over long stretches of lush green fields and numerous small hills of the green-blue Koubrou and Namaijing ranges forming a garland around the valley.
Attractions of Imphal
ANDRO
This is the ancient scheduled caste village about 27 kms. towards east of Imphal and there is one cultural complex established by the Mutua Museum. This place houses potteries of the Northeastern region of India and there is a 'Doll-House' where dolls of 29 recognised tribes of Manipur are in display.
KAIN
This is a scared place of Hindus and is 29 kms, from Imphal. According to a legend, Shri Govindajee appeared to Bheigyachandra, Maharaja of Manipur, in a dream and asked him to build a temple enshrined with his image carved out of a jackfruit tree.
KEIBUL LAMJAO National Park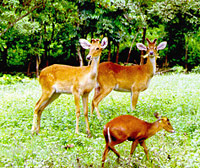 It is the only floating National park in the whole world and is 53 kms, from Imphal. This is the last natural habitat of the marsh-dwelling brow-antlered deer of Manipur called "Sangai". Many waterfowl and migratory birds visit the lake during November and March.
KHONGHAMPAT Orchidarium
This is the Orchid Yard of the Forest Department, on the national highway no 39 and is another place of interest and more than 110 varieties of orchids including several rare species are grown here.
KHONGJAM
Situated on the Indo-Burma Road, 36 kms, from Imphal, this is a place of greatest historic importance where Major General Paona Brajabashi, proved his valour against the superior force of the invading British Army in 1891. Khongjom day is celebrated as a State Holiday on every year on April 23.
KHWAIRAMBAND Bazaar
Khwairamband is also known as Nupi Keithel and Ima Bazaar or Mothers Market. It is a large covered market split into two sections on both sides of the Khwairamband Road and has tribal women clad in colorful, traditional attire selling everything from hand-woven shawls, skirts to fish, lotus, oranges and orange-flavored honey. This market is run by women and is unique in itself.
LANGTHABAL
This small hillock is situated about 8 kms. from Imphal on the Indo-Burma Road and houses an old historic palace and neatly planned temples. The structures are beautifully placed between pine and jackfruit trees. Langthabal offers a view of the Manipur University.
LOKTAK
Lake and Sendra IslandLoktak lake, 48 kms, from Imphal. It is the largest fresh water lake in eastern India and this lake is like a miniature inland sea. Sendra Island, about 50 odd kilometres from Imphal, offers a bird's eye view of the park and its occupants. One can explore the park by traveling around in tiny small boats and also climb up the watchtower located on the hillock of Bebet Ching.
MANIPUR STATE MUSEUM
Near the Pologround is an interesting museum, which is the best place to get a glimpse of Manipur history and c ulture. It has a fairly good display of Manipur's heritage. It is open from 10 am to 4.30 pm on all days except Sundays and Holidays.
MANIPUR Zoological Garden
The Manipur Zoological Garden is about 6 kms. from Imphal at Iroishemba on the Imphal Kangchup Road. It houses "Sangai", a brow-antlered deer in sylvan surroundings and is situated at the foothills of the pine tree hillock.
MOIRANG
Moirang is about 45 kms. from Imphal and is a very sacred place for the Manipuri people. It holds an ancient temple of the pre-Hindu deity, Lord Thangjing. The flag of the Indian National Army was first hoisted here on April 14, 1944. There is also an Indian National Army Museum depicting their struggle for India's independence. The museum is open from 8 A.M. to 6 P.M.
PHUBALA
This is a charming resort on the western fringes of the Loktak lake and is 40 kms. from Imphal. It is joined to the mainland by a low causeway. Boating and other water sports are being introduced here.

SAHID MINAR
The tall Minar of Bir Tikendrajit Park in Imphal commemorates the indomitable spirit of Manipur martyrs who sacrificed their lives fighting the British in the Anglo-Manipuri war in 1891.
SEKTA
Sekta Mound, locally known as the "SEKTA KEI" is a protected Archaeological site, located at Sekta village, about 16 kms from Imphal. It witnessed the practice of secondary burial and was discovered by the Archaeological Survey of India together with State Archaeology, Manipur. It is preserved as a living museum.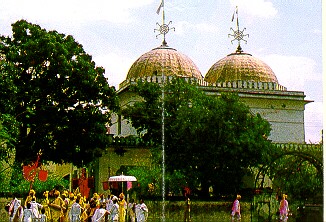 SHREE GOVINDAJEE Temple
This is Manipur's pre-eminent Vaishnavite temple adjoining the palace of the former rulers of Manipur. It is a great historic centre and is a simple and beautiful structure with gold domes and a large raised congregation hall. The presiding deity, Lord Vishnu in the centre of the temple stands flanked by the shrines of Balarama and Krishna on one side and Jagannatha on the other.
SINGDA
This is a hill resort on the hills, 16 kms. from Imphal to the west. The scenery is picturesque. There is an inspection bungalow and a nice artificial lake called Singda Dam, which is now a multipurpose project.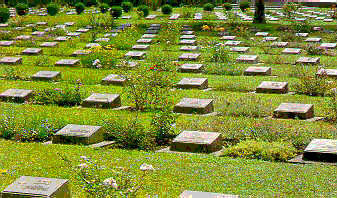 WAR Cemetries
These cemeteries are managed by the Commonwealth War Graves Commission, commemorating the memories of the British and Indian soldiers, who died during the Second World War.
How to Reach Imphal
By Air
Indian Airlines connects Imphal with Delhi via Guwahati on a daily basis.
By Rail
There is no direct train service to Imphal, but travelers can travel upto Guwahati or Dimapur (nearest rail head from Imphal) and then rest by bus or by air.