Location: Bharatpur in Rajasthan, India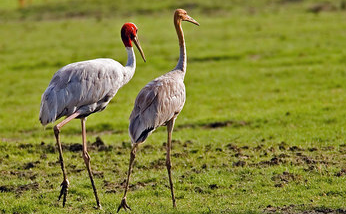 Area: 29 sq km
Main Attractions : Resident and migratory birds, Sambar, Hyena, Nilgai, etc
Best Time Time To: August to November (resident birds) ,October to February (migratory birds)
Bharatpur Bird Sanctuary is situated in the desert state of Rajasthan. It is one of the most famous wildlife sanctuaries in India and is like a heaven for bird lovers. Bharatpur Wildlife Sanctuary is also the only sanctuary of India that was created artificially. Maharaja of Bharatpur got an artificial lake and dam constructed to store the water brought by the annual floods in this area. This dam gradually turned into an ecosystem, where the maharaja started coming for hunting. In the year 1982, this hunting preserve was awarded the status of a national park.
Bharatpur Bird Sanctuary was declared as a World Heritage Site by UNESCO in 1985. The national park serves as home to over 300 species of birds, both resident and migratory. One can also find a number of wild animals inhabiting the park. Bharatpur bird sanctuary is also known by the name of Keoladeo Ghana National Park, after the Lord Shiva temple situated inside its premises. The best time to visit the park is from August to November (for watching resid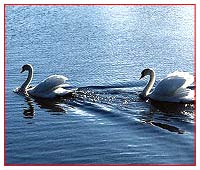 ent birds) and October to February (for watching migratory birds).
Flora
Bharatpur Bird Sanctuary The terrain of the Bharatpur National Park is made up of scrubland and grassland, along with marshes. One can also find large-scale cultivation of acacias inside the park, which was carried out under an afforestation program.
Bird Species Bharatpur Bird Sanctuary of India serves as the second home of the Siberian Cranes in winters. A large number of birds also visit the sanctuary from Central Asia as well as other parts of the world. These include Ducks, Larks, Wagtails, Eagles, Cranes, Flycatchers, Hawks, Geese, Wheatears, Shanks, Pipits, Pelicans, Stints, Buntings, Warblers, Ducks, etc.
Wildlife
The wild animals found inside Bharatpur Wildlife Sanctuary of Rajasthan include Sambar, Chital, Jackal, Nilgai, Hyena, Fishing Cat, Jungle Cat, Wild Boar, Blackbuck, etc.
Other Attractions at Bharatpur
* Bharatpur Government Museum
* Bharatpur Palace
* Deeg Palace
* Lohagarh Fort
How to Reach Bharatpur Bird Sanctuary
By Air: Agra airport falls the nearest to Bharatpur
By Rail: Bharatpur railway station is well linked to almost all the key cities of India.
By Road: There is a good road network connecting Bharatpur with the other parts of the country.
If you are travelling to Bharatpur, Rajasthan
Bharatpur Rajasthan Trip Guide
. You can also like it on facebook and get update. To get an idea of Rajasthan area use
Rajasthan Map