Area: 765.80 sqkms
Altitude : 140 mtrs;
Climate : Winter Max. 45 and Min 10 deg C
Best time to visit: November to March.
Location: 37 kms from Alwar, Rajasthan
Major Wildlife species: Leopard, Tiger, Wild Dog.

History of Sariska wildlife Sanctuary
Full of Indian wild life treasures is a core attraction of Alwar town in Rajasthan situated in the northwestern part of India. Sharp cliffs and narrow valleys of the Aravalli hills dominate the dry and deciduous brushwood of Sariska. It is spreads over an area of 429 sq.km and has a terrain of withered lower slopes of the valley hills combined with thick towering bamboo trees.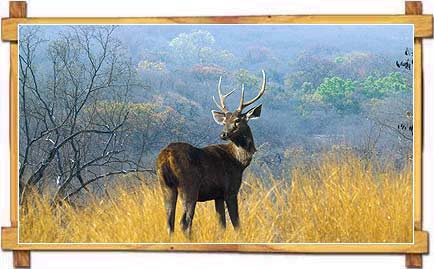 Besides Ranthambore National Park, Sarika Tiger Reserves are another home to majestic tigers of India. Constitute in 1955, Sariska was brought under Project Tiger in 1979 and later on converted into a national park in 1982, is most eminent wildlife reserves in India.
Apart from the rich diversity of flora and fauna, The Park treasures a number of historical monuments and ruins of medieval temples of Garh-Rajor, belonging to the 10th and 11th centuries.
Sightseeing
Best known for its great Tiger Reserves, Sariska is also inhabited by numerous wild species, the prominent carnivores are Chitel, Leopard, Hyena, Jackal, Wild Boar, Sambar, Nilgai, Barasinga (antelope), Jungle Cat, Wild Dog, Langur.
Besides these mammals, there is a treasure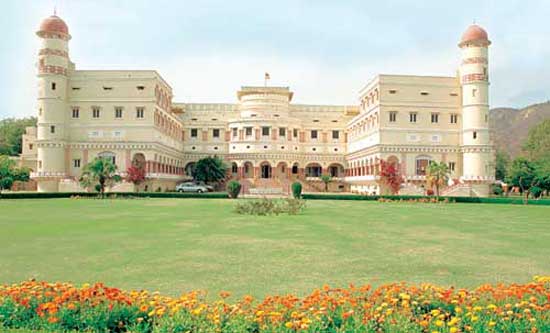 of avian world with exotic and diverse water birds, it includes Crested Serpent Eagle, Great Indian Horned Owl, Peafowl, Grey partridge, Golden back Wood Pecker and lot more.
Other Attractions
The Grand Sariska Palace
The palace contrived by the Maharaja of Alwar as a hunting lodge in 1892 is now transfigured into a hotel. Sariska Palace is situated in the premises of Sariska Wildlife Sanctuary.
The Kankwari Fort
An ethereal structure of Mughal architecture of 10th century is located inside the Sariska national park where once Dara Shikoh was captivated by his brother king Aurangzeb.
The Ancient Shiva Temples
The remnants of the Neelkanth temples, dating back to the 6th-13th century AD will definitely leave tourist mesmerized and captivated.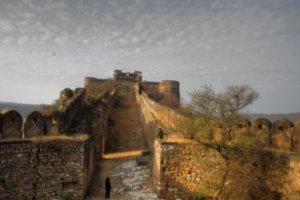 Other sights of tourist attractions are the remnants of the Kankwari Fort, the Budha Hanumab Temple near Pandupol, the Bharthari Temple near the park office, and the hot and cold springs of Taalvriksh with there medicinal value.
Safari
The park can be explored through jeep as well as on elephant's back. Jeep safaris can be arranged at the Forest Reception Office on Jaipur Road. Wildlife viewing and phtography in Sariska are, indeed, spectacular experiences.
How to Reach Sariska National Park
By Air: The nearest airport from Sariska is at Jaipur, at a distance of 115 km.
By Rail: Sariska is located at the Delhi Jaipur high way at Kankwari fort. The Nearest Rail Head Alwar-36km is well connected to all major cities of India.
By Road: By road Sariska is 200 km from Delhi and can easily be covered in 5 hrs.drive. Jaipur is 107 km from the city. Sariska is well connected to Alwar by easy roadways, from where one can avail bus services.