MATHURA
Area:9.37 sq km
Altitude :287 m above sea level
Climate: Summer 45°C to 30°C,
Winter 25 °C to 3 °C
Languages : Hindi and Brajbhasha
Best time to visit: October to March STD Code 0565
History of Mathura
Mathura City in Uttar Pradesh is a place greatly revered by the Hindu pilgrims and it is an indispensable stopover on the itinerary of a tourist who is on his Uttar Pradesh tour. Mathura is most reputed as the birthplace of Lord Krishna and is also called as the Krishnajanmabhoomi. Ma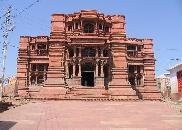 thura is a wonderful place for exploring the mythological associations the city has, especially with the events related in the Mahabharata. One of the most important tourist attractions in Mathura is the Krishna Janambhoomi temple. Located in the heart of the city, it is believed to have been built on the place where Lord Krishna was born. There is a stone slab marking the exact site of his birth which fascinates the believers.
Mathura widely known as birth place of lord Krishna is located on the western bank of river Yamuna at latitude 27degree 41 Minute N and 77Degree and 41 Minuet E. It is 145 Km south-east of Delhi and 58 Km north west of Agra in the State of Uttar Pradesh. For about 3000 Year it was the hub of culture and civilization . Held in sanctity by the Buddhists, Jain and Brahmanical faith alike, it has a long and chequered history. One of the Sapta Mahapuris, it was ruled in turns by the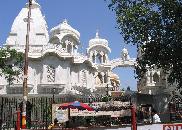 kings of Solar and Lunar dynasties and became a center of three Cultures India Indo-Scythian and Hellenstic. For are creation Mathura is the Athens of India. The great school of sculpture known as Mathura school of Art flourished here for 1200 Years. Such proliflic creativety and gushing devotion to novel Art Forms and experi-ment in sculptures and clay figurines as found in this school are rare in the annals of indian Art History. A survey of this glorious School of Art can be made in the Government Museum, Mathura. The present day Mathura abounds in Place of Religious and Historic Interest, All round the year A large number of Festival and fairs are held in Matura and adjoining areas of Vrindavan Gokul, Brazen and Goverdhan The rascal of Brij is thematically the basis of many performing Arts.
Sightseeing In Mathura
Shri Krishna Janma Bhoomi
Believed to be the place where Lord Krishna was born 5,000 years ago in the prison of his maternal uncle King Kansa, the site now houses a beautiful and magnificent Krishna temple. The museum inside the temple exhibits many old statues that have been excavated here and in the surrounding areas.
Janma Masjid
Built by Nabir Khan in 1661, the mosque looks quite impressive with its four delicate minarets and the traces of the bright colored plaster mosaic that had once graced its panels.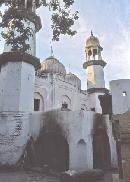 Vishram Ghat
The sacred spot on the bank of River Yamuna has an interesting legend attached to it. It is said that it was here that Lord Krishna rested after the fierce fight with his uncle Kansa, who was a cruel king and had not only abused his power and crushed his citizens but had also imprisoned his own father and had usurped his rights as the king.
Dwarkadheesh Temple
Situated near River Yamina, Dwarkadhish Temple was built in 1814. It is the most popular temple of the city and looks all the more attractive when it is ostentatiously decorated on religious and festive occasions such as Holi, Janmashtami and Diwali. It is profusely carved and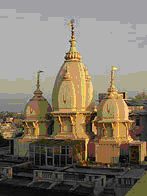 painted and has splendid architectural traits. Since long, followers of Vallabhacharya have managed this temple.
Famous Temples in Mathura
KRISHNA BALRAMA MANDIR
This beautiful temple was established in 1975 by His Divine Grace A.c. Bhaktivedanta Swami Prabhupada, founeracarya of the Interational Society for Krishna Consciousness (ISKON) and has now become Vrindavan's most popular temple and has one of the highest standards of Deity worship and cleanliness. Hare Krishna devotees from around the world can be seen here throughout they year, bringing a truly international flavour to this ancient holy city.
RADHA MADANA-MOHANA TEMPLE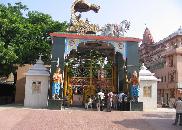 This famous temple was established by Srila Sanatana Gosvami and was the first temple to be built in Vrindavana, which at that time was just a forest. The original Deity of Madana-mohana was taken to Karauli in Rajasthan for safety during the attack onVrindavana by the soldiers of the fanatical Muslim Emperor, Aurangzeb.
JAIPUR TEMPLE
This temple was built by the Maharaja of Jaipur, Sawai Madhav, in 1917 after thirty years of hard labour. It is one of Vrindavan'smost opulent and grandiose temples. The fine hand carved sandstone is of unparalleled workmanship, the huge pillars that hold up the roof are each carved from one solid rock, and the intricately fashioned marble on the alter is reminiscent of the Mughal period. The Maharaja financed the railway line that connects Vrindavana with Mathura, just for the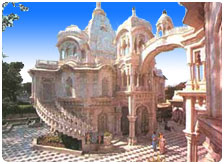 purpose of hauling the huge pieces of sandstone used in the temple construction. The Deities worshiped here are Sri Sri Radha-Madhava, Ananda-bihari and Hansa-gopala.
RADHA VALLABHA TEMPLE
Another very popular temple of Vrindavana whih was founded by Hit Harivamsa Gosvami, who started the Radha Vallabha sect emphasizing devotion to Radharani. In this temple, there is no deity of Radharani, but a crown has been placed next to Krishna to signify Her presence. The original temple of Radha Vallabha was destroyed by the Muslims in 1670 and a new temple was built at the side of the old one.
SEVA KUNJA
This is the sacred place of the rasa dance and also where Lord Krishna offered service to Radharani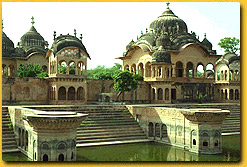 by decorating Her hair with flowers, as well as massaging and painting Her lotus feet. Radha and Krishna would sometimes spend the night here, dancing with the gopis and enjoying various transcendental pastimes. There is also a small temple dedicated to Radha and Krishna's pastimes called Rang Mahal. Near the entrance to this garden is a kunda created by Lord Krishna. He pushed His foot into the ground just to please Lalitha devi when she was feeling thirsty and wanted to drink water.
RADHA DAMODARA TEMPLE
This is one of the most important temples in Vrindavana. The original Deity was hand carved by Rupa Gosvami and given as a gift to his beloved disciple, Jiva Gosvami, who later built a temple here. The Deity now being worshipped is the pratibhu-murti (replica) and is considered nondifferent from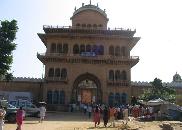 the original Deity. Formerly this spot was in the middle of Seva-kunja and it was the bhajana place of Rupa Gosvami. One can have darsana of the sacred govardhana-sila by asking the pujari and giving a small donation.
RADHARAMANA TEMPLE
This is the famous temple of Gopala Bhatta Gosvami. Radharamana means "one who gives pleasure to Radha", and is one of the many names of Lord Krishna. The seva puja of Radharamana was established in 1542, after the Deity self-manifested from a saligram-sila. Also kept iin this temple is the wooden sitting place (hoki) and shawl (chaddar) or Lord Chaitanya, that He gave as a gift to Gopala Bhatta Gosvami. There is no deity of Radharani in this temple, but a crown is kept next to Krishna signifying Her presence
DWARKADISH TEMPLE
The Dwarkadish Temple, built in 1814, is a popular temple in the center of town. This is the most visited temple in the center of town. This is the most visited temple in Mathura. This temple is managed by followers of Vallabhacarya. Once you enter this temple from the street, it is fairly interesting architechually and there is a lot of activity inside. It is located in the eastern part of Mathura, not far from the Yamuna River.
Places Around Mathura For Nature Lover
* Kelva Dev Sanctuary, Bharatpur [35 KM West]
* Keetham Bird Sanctuary, Keetham, NH-2 [35 KM South]
* Back Water of Gokul Barrage [2 KM South]
* Rural Mathura on bank of river Yamuna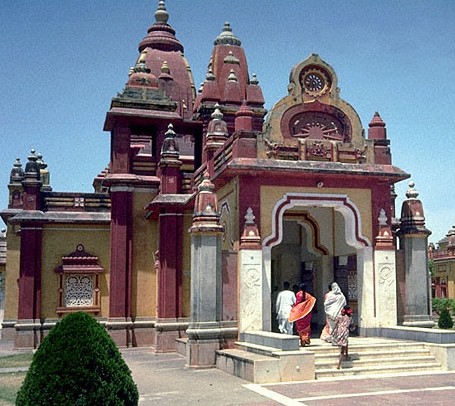 Street food
* Suresh ke Mangode, Samose [Ghiya Mandi, Opp Bhargava Street] [aftre 5 pm]
* Bhagvan Das ka Bhalla [Ghiya Mandi, Opp Jain Street] [after 5 pm]
* Brijwasi Chat Wala [Near Khadi Ashram, Tilak Dwar] [after 5 pm]
* Om Pahlwan Kachori wala [Near Holi Gate, Opp Brijwasi Mithai wala] [8am -11am]
* There are many other chat walas, it depends upon your taste. I advise you to taste these chat on the vendor who are situated from Holi Gate to Chowk bazaar.
Festivals in Mathura
Holi is among the most important festivals in this part of the country. During a full-moon day at the time of February and March, people throw color dye on one another and enjoy the day in merriment. If you visit the place during this time of the year, you will haHoli in Mathurave the privilege to see some of the most colorful and often boisterous processions. Expect to be covered totally in colored dye and the more you take part in the carnival of color and mirth, the better.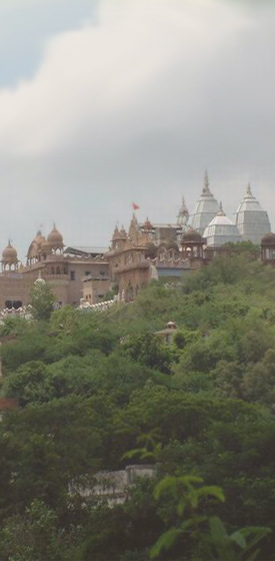 Janmashtami, the day when Lord Krishna was born is no wonder celebrated with much pomp and show. People enact the many legends during the time of Lord Krishna and folklore and recitals take place throughout the night. In Mathura, thousands of devotees gather to offer prayer and the atmosphere is electric. At midnight, the time when Lord Krishna was born in a prison, the celebration reach a crescendo.
Festivals like Vasant Panchami and Siva - Ratri is celebrated with much fanfare. At Ranganath Temple you can also see the BrahmoSiva Ratri in Mathurasava Festival. This is organized during the months of March and April. The place is truly a tourist's paradise. You will be able to get a close insight into the culture of India and the enthusiasm of the people of the region.
How To Reach Mathura
By Train: Mathura is an important railway junction. Most trains between Delhi and Agra stop in Mathura. The journey from Delhi takes 2 - 3 hours depending on the train type, while from Agra the trip takes about one hour. Most of the south bound and west bound trains stop at Mathura. August Kranti Rajdhani Express(for Mumbai) for Delhi stops at Mathura. Other than that almost all major trains from Delhi and Agra stop at Mathura. It is well connected to national capital New Delhi, state capital Lucknow and all major cities by rail.
By Road: Mathura is situated in between Delhi and Agra on National Highway 2, about 150 km south of Delhi and 50 km north of Agra. NH-2 is one of the best highways of country. Upcoming Taj expressway is in east of the city. Mathura is well connected to national capital New Delhi, state capital Lucknow and all major cities by road. Many state transport departments busses are running through Mathura.
By Air: Nearest airport is Agra (Kheria Airport); It is 50 KM from Mathura. Perhaps most of the international and domestic flights are landing into IGI Airport, New Delhi. IGI Airport is 150 KM from Mathura. Upcoming new international airport will also been accessible via Taj expressway [1.5 hr] from Mathura.